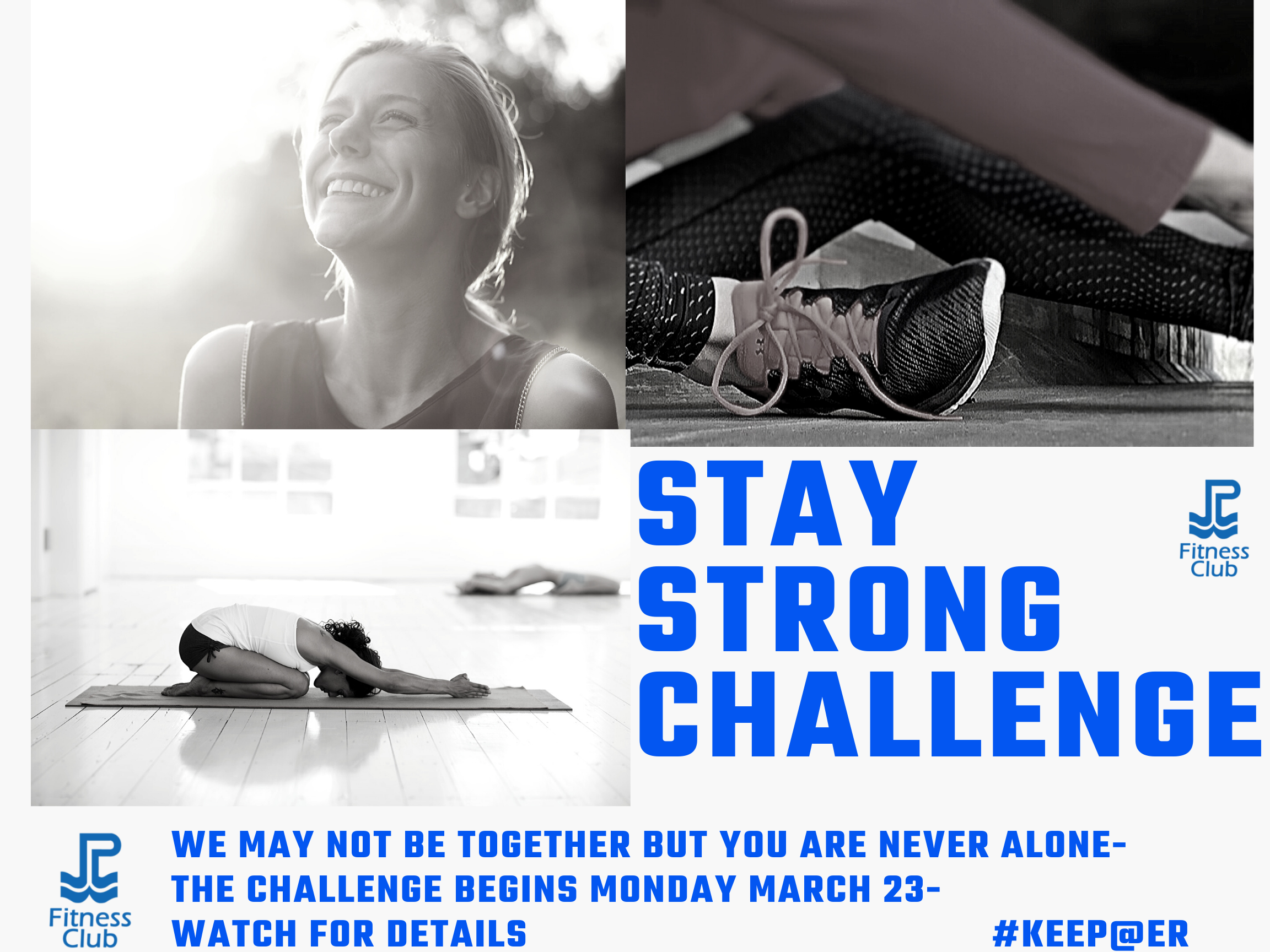 Stay Strong is a simple challenge that will keep you accountable, motivated and moving. It is great for individuals who are regularly active and those who are still trying to build the habit. 
The objective is to move everyday to help build and maintain mental, physical wellbeing. 
We want you to be active for 60 minutes every day! This 60 minutes can be done in shorter segments. You will have lots of options if you follow us on our Blog, or Social Media in addition to the "Move 123" On Demand Virtual Fitness Platform that Tenants have exclusive access to. (Check your emails for access)
We ask everyone to choose activities that are the appropriate intensity, safe and to listen to your body. 

Find balance in your training between muscle groups and high and low intensity
We also want to encourage you to broaden your approach to wellness by participating in our Bonus activities. Our Bonus activities will be changing every few days to give you different things to focus on

Staying connected is a big part of this challenge, share on Social Media, or by email

connect@pwfitness.ca

what you did, how it felt,  or simply take a picture and send it to us. We will also be watching for participation from you like sharing photos, post likes, encouraging comments to other participants etc. 
How to Track Tracking is made easy through Mindbody online- either by downloading the MindBody online app or a few clicks from our website
Go to

www.pwfitness.ca

hover over Activities in the menu bar and click "Book a class online" (if you do not currently have an account you will need to create one)

Each Day at 7:30 PM you will see

Wellbeing Personal Workout

– click Advance Book after you have done your workout for the day. 

Each Day at 8:30 PM you will see

Wellbeing- Stay Strong

– click Advance Book if you have completed one of the Bonus Activities for the day (you will need to create an account on your first visit) The time and duration for this even on the schedule is irrelevant 
Each of your workouts, bonus activities and connections will earn you a ballot for a weekly draw prize.
Bonus Activities Stay Strong Challenge Week 4
1. Final week to enter your photo for the Goofy Plank Challenge
2. Post a picture of being active at home with family or a pet
3. Post a picture of making a healthy meal (prep) or share a healthy recipe Remember you can start anytime
Week 3 April 5-12 Stay Strong Bonus Activities: ⠀
1. Try Something New (see our Try Something new Blog)⠀
2. Recruit someone for the Stay Strong Challenge or #Goofyplankchallenge or share one of our posts⠀
3. Share your workout space with us or a selfie of you doing of a workout⠀
Bonus Activities week 2 March 30-April 5
1.Refine your workout from one of the options we have posted in our blog
2.Write down 5 things you are grateful for and share them
3. Content- Share one of our posts with a friend/colleague, send us a helpful link, tell us you would like to see more of
Bonus activities Week 1 to Stay Strong from Mar 24 Mar 30 —
1. Try a class on Move123 (virtual fitness)
2. Connect or Reconnect with someone remotely,
3. Quality time with the family.
You get credit for 1 Bonus activity/day and can track by signing into Stay Strong on MB