The safety of our members and team members is what's most important. Purdy's Wharf Fitness Club has been dedicated to delivering a healthy way of life to our communities for over 18years, and with a carefully planned and phased approach, we will begin to reopen.
As we navigate through the reopening of our location, capacity, programming amenities and services will be consistent with government guidelines. We expect these guidelines to shift in each phase and we will be informing you when this occurs. We appreciate your help and understanding as we work through this time together. We will all need to play a role in making this a successful return.
Our new protocol addresses Social Distancing, Cleaning/Disinfecting, Personal Hygiene, Health and Safety, Staff Support and mitigating risks.
Our Physical Distancing Plan is an innovative approach and is detailed in our
Get In the Zone
Blog  Zones can begin to be booked on Wed June 16th
Access cards will not be activated during Phase 2, please knock 5 minutes prior to your Zone time and a staff member will let you in.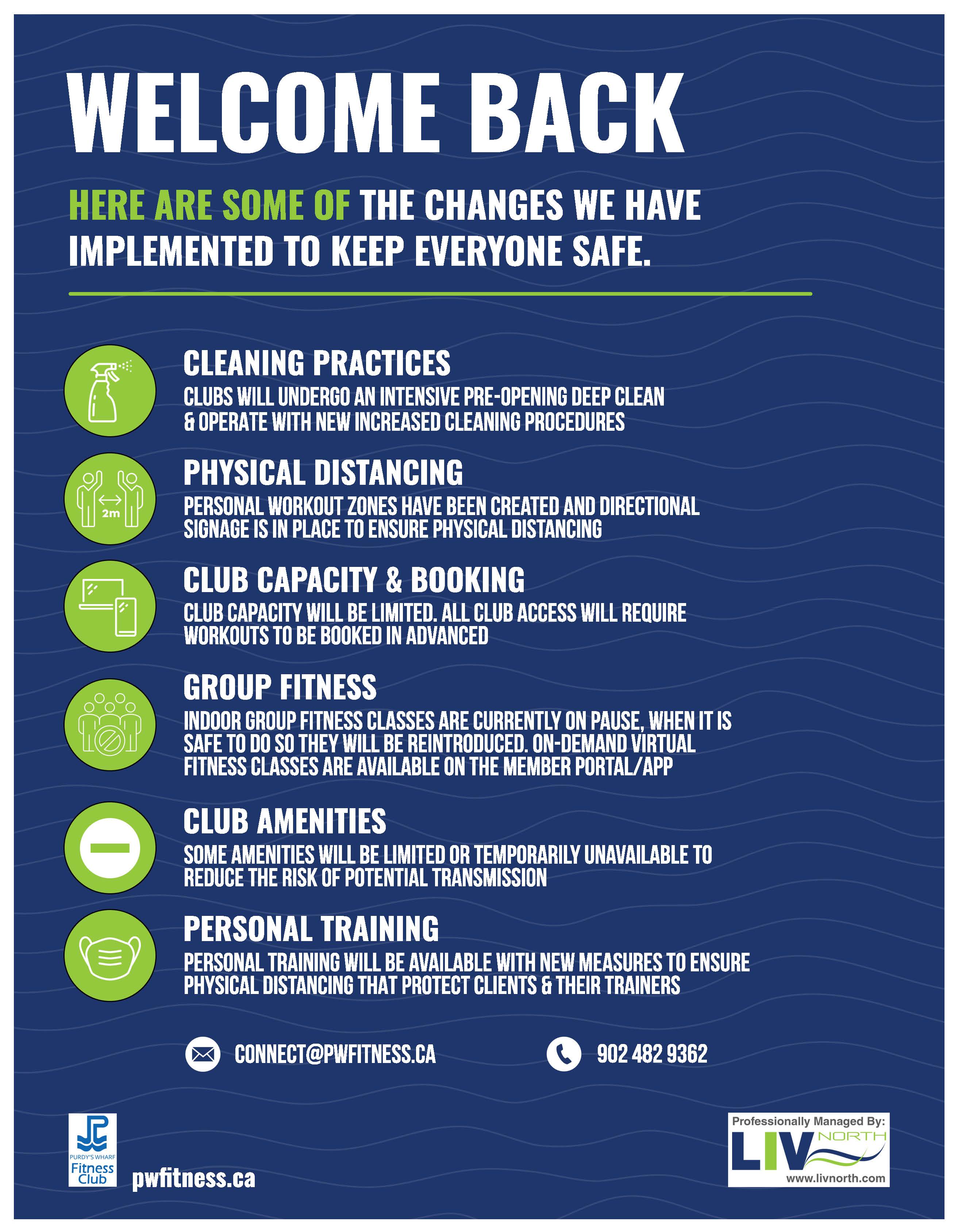 Our Heightened Cleaning Process
PWFC staff will be following a cleaning schedule to ensure thoroughness and consistent cleaning is being completed throughout the facility.
GDI and PWFC staff will increase the frequency of cleaning of high-touch areas like disinfecting door handles, sanitizing stations, bathrooms, sinks, toilets, in the facility throughout the day.
A spray bottle with disinfectant and a disposable paper towel will be available for each member.
Members will be required to clean equipment before and after use and during their workout and dispose of the waste in a lined touchless top wastebasket provided.
Personal Hygiene and Health
We will have signage to promote recommended and courteous health practices and provide clear details regarding member expectations
Motion-activated stations will dispense sanitizer with a higher alcohol concentration. We'll have one station at the entrance, and one the water fountain.
Please do not leave any belongings at the club, we will not be maintaining a lost and found and for the safety of other members and staff we will be discarding unclaimed items daily.
Please bring your own water with you to the club
Locker Rooms are available  but when possible come to the club ready to workout
Avoid touching your face, sneeze or cough into your elbow
Stay home if you are feeling unwell
Handshakes and physical greetings are not permitted.
Clients must be prepared to handle their own weights and equipment. Workouts must be modified so as not to require spotting. Staff Presence and Supervision
The facility will be supervised during our posted open hours.

Hours for Phase 2

Mon-Thurs 6 AM-7PM,

Friday 6AM-3PM, Sat 11AM-2PM
The PWFC Team is here to help, encourage, educate and reinforce from a safe distance.
Staff will be wearing masks and members must wear masks until they reach their zone
We will be using new software to allow you to make purchases, update your personal information, book appointments, reserve zones and classes online.
Staff will not be coming to work if they are experiencing any symptoms
Temporary Pause
We are unable to offer some of our facility areas, services or amenities initially as we are able to make these available we will. For the time being this includes:
Indoor Group Fitness
Water Fountain
High-touch amenities- To limit hand-to-hand contact, we're removing amenities in the locker rooms like hairdryers, curling irons and clothes iron, razors, q-tips,hair ties
TV Remote, Magazines, Program tracking sheets and hard to clean equipment like yoga mats, minibands, power bands will also be unavailable.