We're happy to announce that Gavin Giles is our featured member for this month. Gavin, also known as 'Double G' around PWFC, has been a member with us for about 8 years but has been working out/exercising for more than 20 years.
Gavin hangs his hat on getting the most value out of his membership and will routinely make it into the club 5-6 times a week! You will either find him strength training with his coach or doing solo rides on a spin bike. On top of getting into the gym, he will be awake before the birds to get a long bike ride in 2-3 times a week.
Though Gavin currently puts exercise on the top of his priority list, he says there was a time when he wasn't staying active and started to watch the scale move in the wrong direction.
"I had always been active: hockey at a high level, running, cycling and racing.  I got out of it because of marriage and career.  I kind of lost control of my fitness and gained a lot of weight.  Getting into a gym to access both the equipment and the structure was just the right move for me."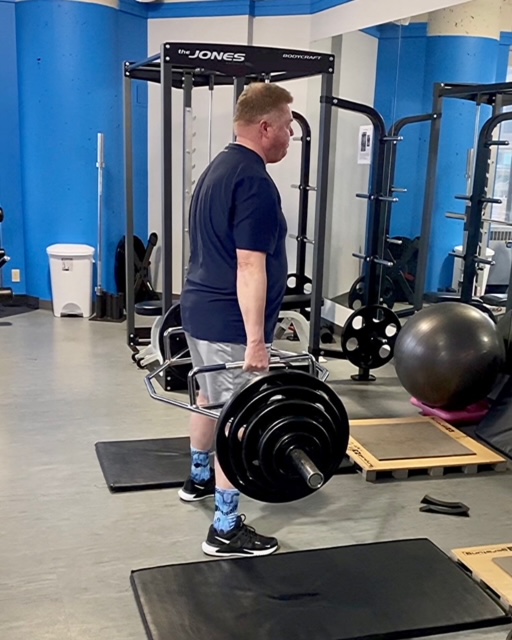 On top of making fitness a daily habit again and slimming down to a healthier weight, Gavin's greatest achievement was probably his recovery from a serious cycling accident a few years ago where he broke his wrist, arm and tore a number of ligaments in his elbow. The surgeon told him he would never regain his full mobility or strength back in his arm. But in less than a year he proved them wrong by actually becoming stronger and more mobile than he was before the accident.
We asked Gavin to speak a little about his dedication and hard work in recovering from this injury and he gave us a very modest answer;
"I place all of that on my PWFC coach. He is 100% committed to his clients, to their motivation, to their progress, and to keeping things both challenging and fun."
Currently, Gavin's fitness goals are to lose a little more weight and to continue to get stronger but also, like most his age, he is also focused on improving his overall health, his energy levels and moving better.
Before we let him go, we asked Gavin what would be his advice to someone brand new to working out and he told us,
"Canvass the coaches.  Let them help you define your goals and time commitment.  And then choose the one who you think you might fit with best.  Make sure that your goals are realistic.  And then stick to a routine of varied routines, at least three times weekly."