2020 wreaked havoc on our plans and our good intentions so now reset and accomplish all your goals in 2021!

What does Hybrid Mean?
Hybrid is a mixture of 2 or more different things! Our Black Friday "ALL IN" Bundle refers to 3 different items:
1. Live Coaching
2. Virtual Fitness
3. Membership (Independent Facility/Equipment Access, Group Fitness)
We've put this bundle together to help ensure that you reach your goals in 2021, and all for one great price!
1. Live Coaching
Personal Training brings expertise to your workout, as well as purpose, accountability, customization, safety, intensity, and motivation.  If you are serious about results, hiring an expert is key. You have 2 options, Private or Group:
OPTION A: Private – Work with a trainer to establish a routine and measure progress. Meet with your trainer 3 times every month, appointments are determined based on Trainer availability and your schedule.
OPTION B: Group Training(Team Training) –  Expert coaching will help you add more challenge, more variety, and more customization to your workouts.  What you trade for individual attention, compared to 1 on 1 training, you gain in frequency.  Meet 8 x each month to maximize your results.  Current sessions include HITT Xpress, Muscle & Mobility, and Absolute Strength.
2. Optimal Online:
We know you may not be coming into the club as often as you would like, but now there is no excuse about keeping your workouts rolling. Included in our bundle is an Anywhere Anytime virtual option, with  On-Demand workouts like Core, Strength, Barre, Pilates, Yoga.  You can also choose other inclusive services for back health, better sleep, target training for abs, arms, glutes, and much more. OPTIMAL is our app that can be accessed from the Member Portal or your Mobile Device.
3. Membership
Working out at home just isn't the same.  Being able to use equipment that you don't have at home will elevate your results much quicker.  Reserve a workout time in advance, choose a zone, and follow through with your workout independently. We currently have 2 Yoga classes/week that are also free with your membership and full access to the Lockers and Showers are included as well.
Sounds great but how much?
We have tried to think of every angle to ensure your success. The 3 elements in the Hybrid Bundle would be well over two hundred dollars/month at many facilities, and not even available at others, because they may not have the capacity to offer all of these key elements.
We will be offering the above "All In" Hybrid Bundle on Black Friday for only $140+tax/month for Purdy's Tenants and $146+tax/month for those who do not work at Purdy's. (If you are already paying for any services and would like the "All In" bundle we will adjust your payment to the Special Pricing)
If you are looking for an option that allows you to be more independent try our Membership+Optimal for only $41+tax/mth available only to Purdy's tenants.
The "All In" commitment is available Nov 27, 2020 (services and access begin Dec 1), and finishes Feb 28, 2021.(These usage dates have been extended based on Club Status to deliver services) We can only confirm these prices for 3 months, after that we will update you on any changes to your billing.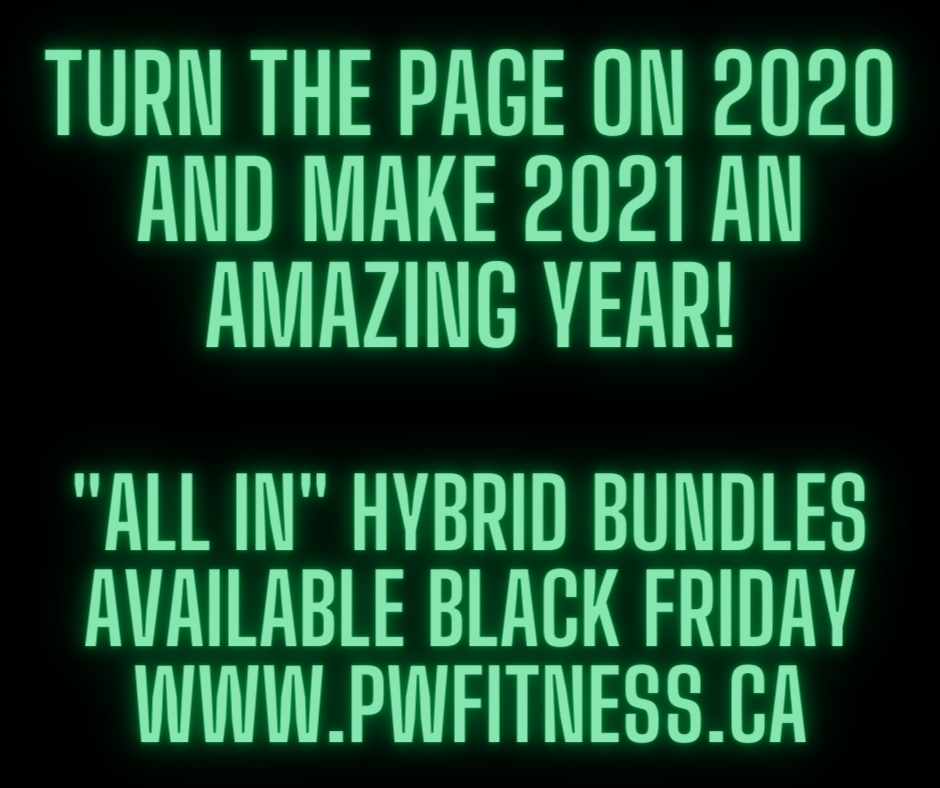 Email us connect@pwfitness.ca with Subject line "I am All In!"
*In the event of Facility closure due to Community Safety- Only Optimal Fees will remain active, other payments will be put on pause and all prepaid services will be honoured upon reopening.